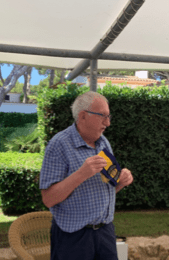 The Future's Bright
At the meeting of Rotary Club Calvia International on 15 June 2020, our outgoing Sargeant at Arms, spoke about the task he had accepted from the District Governor, two years ago of organising and setting up a new Club on the 'other side of the Island' where he lives.
With his 37 years' experience of Rotary, in 'Gods County', Yorkshire, UK, and overseas, including to Majorca, he was the ideal candidate. However, he refused the invitation to leave RCCI and become the first President of the new Club. Instead, he remains a member of the Club and in addition, is the 'New Club Adviser' for the new Club.
In the last two years, what has been achieved? A great deal. First of all a location for the Club has been identified, the Club House of Son Severa Golf Club – an all year round venue. Next a number of interested individuals have been identified as potential members – including the Director of Golf at the Club. Meetings have been held with these individuals and members of RCCI. The subjects of these meetings have been Rotary related, what it is, what its' for and what it does. The name of the Club has also been the subject of discussion and after various iterations it is now to be known as Rotary Club East Mallorca International, subject to approval. This is the name that the 5 municipalities in the area intend to use to promote tourism and commerce in the area and it seems appropriate that Rotary follows that name in the interests of identity and collaboration. Geoff is in touch with the municipalities to seek their agreement. Geoff also mentioned the documentation on the RI web site which sets out what has to be done to in order to set up a new Club. There are nine steps and Geoff has the first 5 covered. Well done.
The lock-down as a result of the coronavirus has meant a delay but it is hoped that with the help and support of RCCI, which overwhelmingly, supported the setting up of the Club things will start moving again soon.
For example, Press adverts are already drafted and ready to be placed. An accompanying press Release is also ready to go to the various German/Spanish and English speaking newspapers, radio stations etc. There are also various publicity leaflets in the same languages which can go individuals who might be interested in joining.
Geoff went on to explain to all members the responsibilities of Rotary Club Calvia International as the sponsor of the new Club. Obviously, to help and support and to think about joint fundraising. Geoff also thanked the members and officers of RCCI who had helped so far. There is also an obligation to mentor the new Club for two years after its formation.
Gerdi, the incoming president of Rotary Club Calvia International acknowledged her responsibilities in this respect.
Rotary will thrive in Majorca